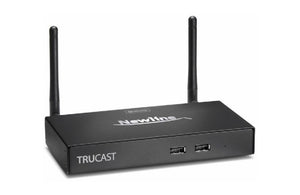 Newline TRUCAST
TRUCAST
Wireless Presentation
Lose the wires, not the connection, with the TRUCAST wireless presentation system. Connect multiple devices, from a laptop, smart phone or tablet, to an interactive display. Share your screen with anyone in the network or pass control to a new presenter. Newline's TRUCAST works just like a regular router but helps keep your connectivity both easy and secure.
Project up to 4 devices at once so your whole team can broadcast their work and collaborate.
No limited number of software downloads means everyone in your company can participate.
Connect to Ethernet, your own WiFi or use TRUCAST's independent, private WiFi network.
1 Year warranty
Platform independence gives your team freedom to use their preference of Mac or PC.