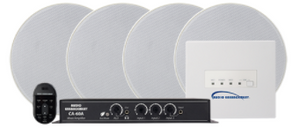 Audio Enhancement Sentinel System
The Sentinel System is an affordable option that provides the latest in classroom security.  Without breaking the budget, the Sentinel System is designed specifically to provide classrooms with quality audio, and is compatible with the SAFE System™ (Signal Alert For Education), an integrated silent alarm system. The Sentinel System includes the CA-60 amplifier, the IR Satellite or XD Receiver and the teacher microphone.
The CA-60 Amplifier is an all-in-one audio solution for teacher voice amplification and the playback of multimedia sources. The CA-60 features Eco mode, which automatically reduces power consumption when no signal is present. This system features a PA voice override, so announcements can always be heard. The Teacher Microphone enables the teacher to control the volume of the student microphone, his or her microphone and the auxiliary input level.
With SAFE System integration, the Sentinel System has a silent alarm built right into the microphone.  In case of an emergency, SAFE System quickly notifies administrators and first responders when a teacher pushes the "Function" button. SAFE System requires IR technology.
The Sentinel System offers the following benefits:
Affordable, easy to use classroom audio system
Crystal clear playback of multimedia and voice amplification
Convenient control of the entire system from the microphone
Compatible with

 

IR

 

and

 

XD technologies
1 Teacher Microphone