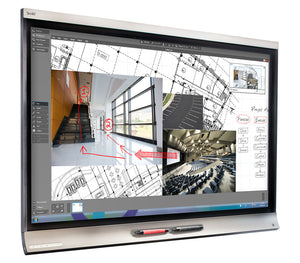 SMART Board 6000 Pro Series

SMART Board® 6000 Pro series
Put more heads together
Businesses achieve more when meetings are productive, and remote colleagues are able to collaborate as well as teams in the same room. The new SMART Board 6000 Pro series with iQ reduces meeting time by looping in more minds, insights and perspectives at once. It's a catalyst for innovation in the connected age.
SMART Meeting Pro® software included
SMART Meeting Pro workspaces are unbound and virtually unlimited. Workspaces expand as you add files, links and notes. There's enough room for your team's biggest ideas.
THIS ITEM QUALIFIES FOR FREE SHIPPING!
*Free shipping available only through internet purchase*