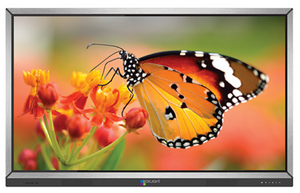 Boxlight ProColor 652U
Touch technology and collaboration are brought to life with the brilliance of our 4K ultra high-definition LCD flat panel Android display.
Features
Up to 20 single-point users or 10 dual-touch and gestures users with Touch 360° interactivity, driving collaborative learning to a new level.*
Built-in Android OS for touch control plus Whiteboard app.
4K video resolution (3,840 x 2,160).
LED backlighting for energy efficiency.
Includes MimioStudio™ classroom software with 3-device MimioMobile™ license.
* Multi-touch available on Windows systems. Mac and Linux are single touch.
THIS ITEM QUALIFIES FOR FREE SHIPPING!
*Free shipping available only through internet purchase*